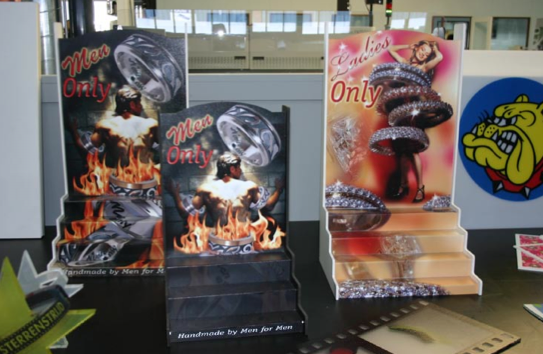 From technical advantage to market leadership. By Hadar Friedland, strategic product manager, Large Format Printing Industrial Solutions, IPG, HP.
While it is widely recognised that wide format digital printing is having a profound effect on indoor and outdoor graphics production, until recently, substrates have received little attention. The paper-based, twelve-tile 6m x 24m billboard appeared to be one of the few constants in the changing world of graphic arts technology.
However nothing lasts forever.
New technologies are changing the model for billboard production, and virtually nothing is unaffected. The shift from analogue to digital production empowers printers to use new inks, while new plastic substrates facilitate mounting, shorten turnaround times and enable print service providers to meet the environmental demands of their customers. Billboard change-overs are further transformed by new billboard mounting systems, supplied by HP partners and are perfect for use with the HP XP2300 Printer, these drastically reduce the time necessary for installing and removing static billboard graphics, and can be carried out by one person.
New opportunities for a fast paced world
Today's marketing and advertising world needs to move fast, often responding to the sporting or political events of the day. Brand managers who choose billboard advertising often impose place tight turnaround times on print service providers (PSPs).
HP released its HP XP2300 Printer that was developed especially for outdoor signage's new demands. With its advanced printing technology, the HP XP2300, a 3m UV printer, can print on a wide range of substrates including on inexpensive media such as polyethylene, uncoated PVC, self-adhesive vinyl, mesh, woven Polyethylene, and textiles that can be mounted immediately without the need for drying.

This printer offers many other advantages. Two of the most significant ones are high ink coverage (twice as much as most UV printers) to save ink costs, and very high productivity for fast turnaround times, making it ideal for printing high volumes of durable outdoor signs, banners, posters, building wraps.
Although paper media are widely used and have many advantages, and are often the preferred substrate for use in certain applications such as POP, street signage and indoor applications, PSPs who are under time pressures and who use the HP XP2300 Printer are now able to take advantage of production efficiencies not offered with traditional substrates, and which also meet increasing pressure from advertising associations for more environmentally responsible production.
While there is a variety of a plastic material for billboards, the most common is a woven polyethylene. It is a robust, lightweight, dimensionally stable material and is resistant to tearing. It is also an excellent medium for UV-curable printing with the desired properties of ink adhesion, abrasion resistance, and of course, water resistance.
Other performance issues highlight the benefits of plastic media. Traditional methods of applying billboard advertisements can offer challenges, which can be overcome using plastic substrates. Billboard ads are now often changed about every two weeks, and for ease of application are most often applied directly over the previous ad, which can result in the surface becoming uneven. With single-piece plastic billboard advertisements An entire twelve-tile billboard can be printed on a single very lightweight 3m wide piece of plastic. Mounting becomes an easier process since the advertisement is not heavy, wet and subject to tearing. The old ad is removed and the new plastic billboard is stretched, rather than glued in place ensuring a smooth surface producing the optimal effect every time. This entire process typically takes about a quarter of the time necessary to mount a twelve-tile billboard. Billboard change-overs can be further transformed by new billboard mounting systems, supplied by HP partners and are perfect for use with billboards produced using the HP XP2300 Printer.
Variety, value and time to market
If the graphic arts are about anything, they're about variety. Today's wide and super-wide format printing technologies embrace a broad range of ink and media types, including solvent, water-based, UV-curable and latex inks. In addition, there is a range of substrates with choices to be made among papers and plastics; what drives the selection and purchase is important to understand.
Ideally, choices of printers, inks and media should be made on a firm foundation of technical and business grounds, with anticipated customer requirements and applications heading the list of considerations. This is not, however, always the case. Factors like habit, relationships with suppliers, suspicion of the new and the capabilities of existing equipment and staff often play a part in these choices. Often, one can get away with yielding to these, but only for a time.
Competition for quality and speed of response is now more critical than it's ever been. Delivering messages quickly to large audiences is what agencies and brand owners require, so sign and display print service providers need to know what it is now possible to achieve.
Digital technology now makes it possible and cost-effective to change messages quickly. While there will still be those who put an advertisement on a billboard and leave it there for six months, there are more who will want to take advantage of new technology and innovations to reduce the cycle from fortnightly to weekly to increase awareness and keep their messages fresh.
New digital devices like the HP XP2300 Printer, a 3.2 m (10.5ft) roll-to-roll printer designed for high volume production environments, combine high speed and low ink consumption, changing the cost dynamic of billboard printing.
One of the first users of the HP XP2300 Printer is Gardners, of Cardiff UK, a company that has a tradition of being on the cutting edge of printing technology.
Richard Gardner, company chairman, comments on the changing business environment: "All the ads around the country change every two weeks, so theoretically you have two weeks to print the product. But, quite often, a campaign will be instigated in reaction to a competitor, and the customer wants to react very quickly within two or three days. So digital is perfect for that. And the HP XP2300 Printer is even more perfect because it allows you to put a lot of material through in 24 hours."
"We need faster machines and lower cost inks," Gardner continues. "The only way to expand the market is to take more work from analogue. At the same time, going green is absolutely critical. The world has changed. Now the majority of work we do is on environmentally responsible materials, like woven polyethylene."
The bottom line
These new media now offer an affordable, reliable alternative to traditional media like paper or PVC for high volume, fast turnaround billboard production. And with 13 percent CAGR growth in the billboard market, and 16 percent CAGR2 for building wraps predicted until 2013, the future of printed billboards is bright.
HP is a leading supplier of wide format roll-to-roll UV printers, and with heavy investment in R&D is constantly developing products which respond to the challenging demands of the marketplace and which help PSPs exceed the expectations of its customers, capture new business opportunities and gain a fast return on their investment.
comments