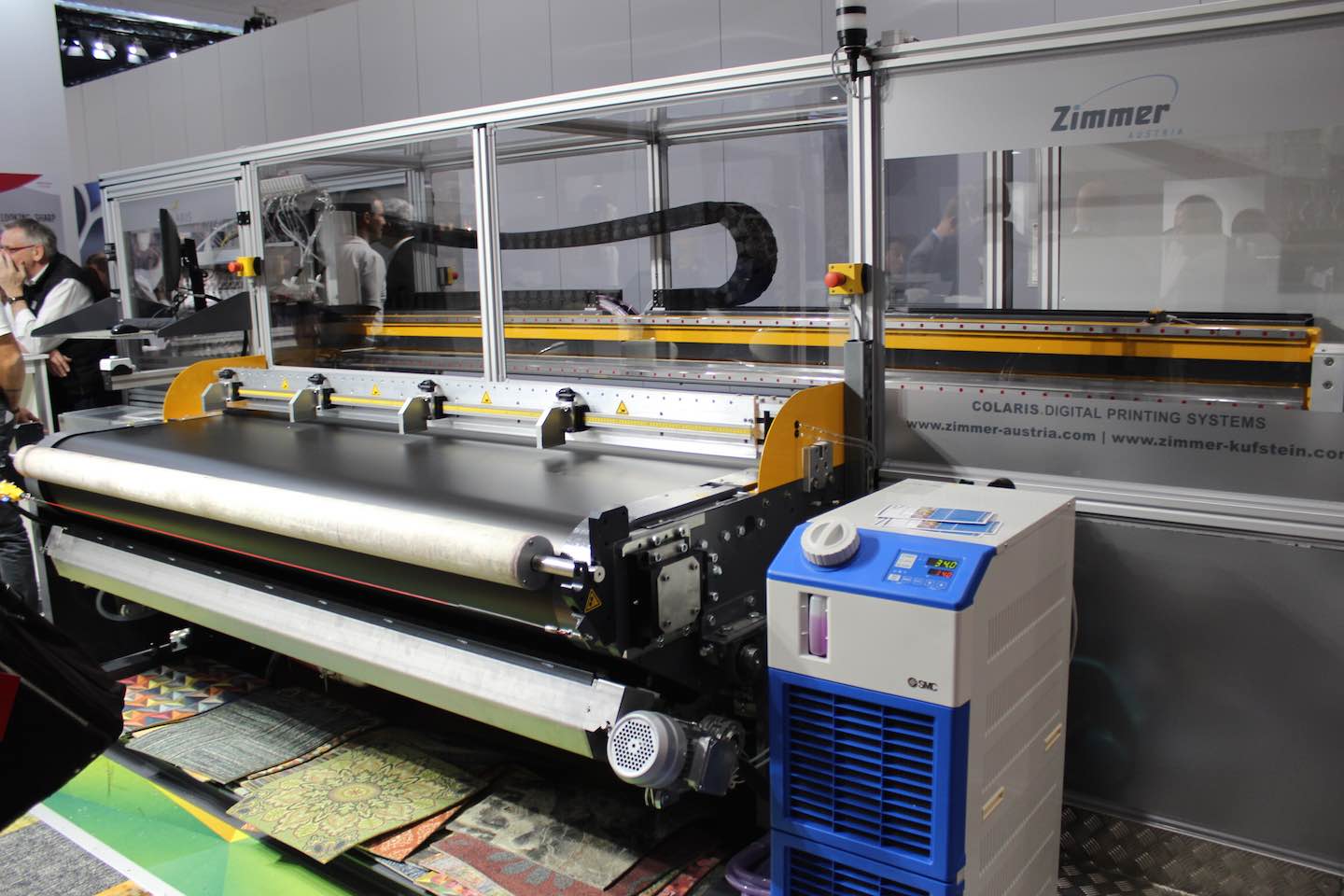 At Domotex, companies demonstrated their ability to print on all types of floor coverings and related materials. By Sabine Slaughter
Digital printing is moving into more and more areas or has been active for years in areas that are not necessarily eye-catching. The latter includes floor coverings: Printing on laminates, carpets, skirting boards and panels as well as varnishing are areas of application of inkjet printing which have developed in parallel. Slowly but steadily, the acceptance of digital printing in these areas is growing. While in the analogue process, in the carpets sector also in the manufacturing process, ever larger quantities have to be ordered, which do not make personalisation or individualisation cost-efficient, digital printing enables shorter run lengths up to a run of one.

In addition, there are customer demands for ever more individual floor coverings as well as a shorter replacement time: Whereas floor coverings were left lying around for decades in the past, partly reprocessed over and over again, nowadays it is sometimes only years before the floor covering is replaced - this applies both to the business world and to private households. Corporate design is particularly important in the business sector, and if this is changed, if new offices are built or taken over, they should also shine in the same style and design as the rest of the company. The market is booming and is currently showing steady growth. No wonder, then, that digital printing is slowly but surely making its way into this market.
Colaris digital printing press at Zimmer Austria
One of the companies that stand out in this area is Zimmer Austria. We have already met the company at Heimtextil, where the company presented print samples of its Colaris inkjet printer series. A large selection of fabrics was printed with pigmented inks. The result are bright colours, wash, light and friction resistant prints that are not only colourfast but also have exact colour reproduction and repeatability. A total of 12 customers of the Austrian machine manufacturer, from home textile manufacturers to manufacturers of blankets, carpets, mats and towels, showed their products at Heimtextil, which were produced with the help of Colaris printers.

The pigment inks used in the machine can print on almost all substrates (textiles, fibres, wood, paper and many other materials). After printing, the inks are fixed inline in a hot air process where the individual polymers fuse together. Depending on the material, a preliminary treatment may be necessary. The Colaris printer is equipped with six colours for pigment printing and, depending on the model, has a print width of 2200 to 3400 mm, with between two and sixteen Starfire print heads achieving print speeds of 120 to 1,100 sqm/h at a resolution of maximum 1,600 x 1,600 dpi.
The advantage of digital pigment printing lies in the environmental friendliness (no water), the simple process (printing-drying) and the possibility to print various materials with the pigment ink.
Zimmer Austria also brought its Colaris inkjet printer to Domotex, where live carpet tiles were printed. This made a great impression on the visitors and the stand was almost always densely surrounded. Acid as well as reactive and disperse inks are available for carpet printing.
"Zimmer Austria has been active in the field of carpet printing since 1976 when the company introduced the Chromojet," explains Tony Naschberger, Managing Director of Zimmer Austria. "Our decades of know-how in mechanical engineering - the company was founded back in 1874 - and the interaction between substrates, inks and processes results in the fact that we do not offer an "off-the-shelf" printing machine. The individual requirements of our customers, based on basic models, enable us to offer modular layouts. This also includes various machine components, such as inline pre-treatment or post-treatment and future expandability of the machines".

New systems for web guiding
Erhardt und Leimer brought the new SWS 9430 web guiding system to Domotex. As a digital web guiding system in foot design, the segment control roller system is intended to ensure the particularly gentle alignment of almost all textile webs. Thanks to a central support, it is suitable for working widths of up to 7,200 millimetres. The centrally divided strips of the control roller are intended to allow the material to be stretched broadly during guiding so that it can be transferred to the subsequent process without longitudinal folds. Thanks to the compact design of the SWS 9430, it is predestined, for example, for use in front of coating systems or in the outlet of fabric accumulators.
In addition, the company presented the Elgider DRS 71 three-frame system.
Haptic print
The new J-Print TD is a single pass inkjet printer that can also create haptic effects during printing. The Italian company, which has made a name for itself in varnishing, decoration and digital printing, presented this printer for the first time. With a resolution of 400 dpi and a maximum speed of 50 m/min it produces relief effects, positive and negative. The machine also features automatic ink management to control temperature, flow and pressure. The J-Print TD is supplied with a preconfigured standard position and can be configured for a maximum of two positions.
Skirting boards as individual as the customer
The South Tyrolean company Karl Pedross AG demonstrated at Domotex how individual skirting boards can be produced intelligently, dynamically and green with digital printing. The company from Latsch has patented its digital direct printing on skirting boards and profiles.
The Domotex appearance of the last manufacturer was under the motto "Saving the forest with every print! The process allows an unlimited range of motifs to be reproduced with a brilliant look and unique feel, including exclusive protected woods. Sustainability is at the top of the South Tyrolean's priority list, but also the endeavour to adapt each skirting board individually to the needs of the customers.
comments