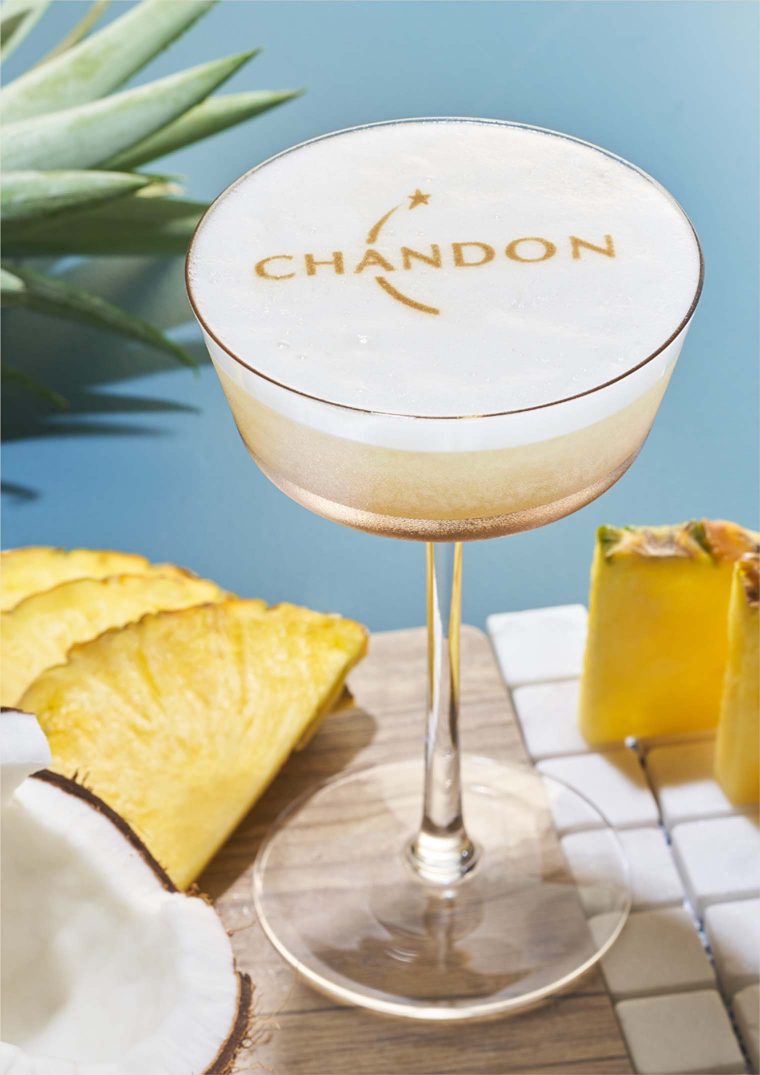 Ripples and Chandon reinvent the cocktail consumer experience, launching at VivaTech 2019 before program deployment in seven countries around the world
Ripples introduces red natural ink for cocktails

Ripples, the revolutionary beverage-top (bev-top) media platform, today announces that it has partnered with sparkling wine producer Chandon part of Moët Hennessy Group, leader in luxury wines & spirits,. The Chandon collaboration represents the first global brand to adopt the Ripple Maker countertop beverage printer technology across its entire business, with the aim of reinventing the cocktail experience with the world's first interactive global campaign, featuring messages and images printed on to cocktail foam.
Yossi Meshulam, CEO Ripples, comments: "Ripples is literally bubbling with excitement over our recent collaboration with Chandon. As a global luxury beverage brand, Chandon really understands the power of differentiation through media and innovative partnerships. Chandon cocktails topped with Ripples will now become instantly share-worthy, as delighted consumers post across online social networks, extending that initial moment of engagement to boost the brand's digital presence."
Chandon will launch its new capability at VivaTech 2019 in Paris, where Chandon printed cocktails will feature in the main bar, The Chill zone, as well as the LVMH booth (Hall 1 – J30). The installation of 25 Ripple Makers will then commence at key Chandon bars and facilities across seven countries, including the USA, Argentina, Brazil, India, Japan, France and Australia.
"Our partnership with Ripples represents a really exciting opportunity for Chandon to share sparkling moments with consumers around the world," comments Morgane Pont-Bruyns, Chandon Trademarketing & Innovation Director.
"Leveraging new Chandon cocktails developed specifically for the Ripples campaign, we can not only showcase the quality of our wines, but by printing customized messages on to cocktail foam, we can now also interact with our consumers in a completely different way, live, and worldwide. Not only does this provide consumers with the ideal medium for sharing their Chandon experience via social media, but it also perfectly demonstrates the innovative nature of our business."
With units also to be used within its promotional events and activation teams, the Chandon branded Ripple Makers include a mix of Ripple Maker PM and Ripple Maker PM GO evening drink solutions – with the PM GO solution specifically developed for safe transportation to events.
Morgane Pont-Bruyns, Chandon Trademarketing & Innovation Director, continues: "The partnership with Ripples was the result of a co-development program with the innovation cell of the Moët Hennessy group, the MH Lab. The choice of Ripples for this was easy – they were first to market with this technology; are current market leaders and they also share our standards of excellence. Essentially, they're closely aligned with our brand. We are excited to continue Chandon's pioneering story around the world with Ripples."
To compliment the Chandon campaign, Ripples has also introduced a new and unique red ink. Developed from carrot extract, the new ink is a 100% natural product and will feature on several Chandon sparkling wine based alcoholic drinks such as the 'Chandon Colada', 'Chandon Strawberry' and a 'Lychee Cocktail'.
Utilizing Ripples' ability to provide intuitive customer facing Apps for increased brand control and greater consumer engagement, the company has also designed a custom Chandon Facebook Messenger Bot. This facility provides Chandon with a branded platform from which to engage consumers and enable them to send images, quickly and easily, to the Ripple Maker within customized Chandon frames.
"Spirit brands around the world are constantly looking for ways in which to increase customer loyalty and strengthen their brand awareness. Until now, they've had to do this while serving foam-based 'naked' drinks. With our revolutionary 'bev-top' media solution, these businesses now have the perfect platform on which to boost the brand and personalize their consumer experience – creating excitement, delight and a fun experience that they almost always share," concludes Yossi Meshulam.
comments